The Grand Canyon is perhaps the most recognizable landform on planet Earth, yet specific details about its formation and age are elusive. It is not for a lack of trying but rather that the canyon was formed by erosion so that much of its earliest history is gone or remains hidden within its stubborn rocks. Recent research into the canyons' origin has revealed some surprising results which will be shared with listeners in this slide illustrated presentation.
This presentation is free and open to the public.
The event will take place in Garner Auditorium at the W.A. Franke College of Business, Northern Arizona University Campus. Free parking is on East McConnell Drive. The auditorium access is via the west entrance of the College, see map below.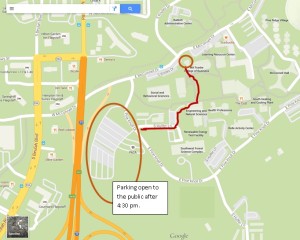 About the Speaker:
Wayne Ranney is a geologist, and river and trail guide based in Flagstaff, Arizona. He became interested in geology while working as a backcountry ranger at Grand Canyon National Park and later received his Bachelor's and Master's degrees from Northern Arizona University. He has led thousands of people down the trails and river in Grand Canyon and is the author of eight books including "Carving Grand Canyon", "Ancient Landscapes of the Colorado Plateau" and "Sedona Through Time".